LAKES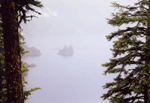 The Phantom ship in the Mist -- A small, mysterious island seen through the mist in Crater Lake, Oregon.
Dove Lake -- A very still Tasmanian lake reflects the mountains surrounding it. Photo by Julia Arehart.
---
Geothermal Cauldron I -- This hot spring is very colorful due to the varied mineral deposits found in it. Photo by Greg Arehart.
---
Desolation Lake -- A small lake in the Desolation Wilderness, in the Sierra Nevada mountains on the border of Nevada and California. Photo taken by Julia Arehart.
---
STREAMS AND WATERFALLS
Fiordland Waterfall (Watercolored) -- A nice waterfall over mossy rocks in Fiordland, South Island, New Zealand. Yet again, I will mention you can write to me and recieve more information. Photograph by Julia Arehart. Watercolored in Photoshop by Emerson Arehart.
---