This section is dedicated to our beautiful herbiforous brethren.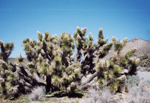 Majestic Joshua Tree III -- This majestic Joshua tree was found in a desolate valley in Southern California.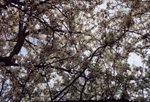 Plum desktop I -- A plum tree in Sacramento, California.
---
Plum Desktop II -- Another shot of the plum tree, from a different angle.
---
Torn Wood -- This log had torn at the bottom and ended up looking quite interesting.
---
Sturt Desert Pea, Watercolored -- South Australia's official flower. Photo taken by Julia Arehart, watercolored by Emerson Arehart.

---
PALMS
Electric palms -- Silhouetted blue palms, color-penciled -- VERY cool, and VERY ominous.


---
Sketched Palms -- Sketched Palms, in color.
---
JOSHUA TREES
Swirled Joshua Tree -- View of Joshua trees from bottom of trunk, watercolored and swirled!
---
Joshua Forest -- A Joshua tree forest on a desolated state route in California.
---
DOGWOODS
Dogwoods Desktop I -- Looking up through dogwood blossoms at the blue sky; watercolored. A non-watercolored version can be seen here.
---
Dogwoods Desktop II -- Another view from below, of the same tree. A non-watercolored version can be seen here.

---
SEQUOIAS
Sequoia From Base -- The Oregon Tree in Kings Canyon National Park, California. More Sequoia Pics coming soon!
---
ORCHARDS
Watercolored Kiwifruit on the vine -- "Chinese Gooseberries," as they were originally called, were introduced to New Zealand many years ago. Since then they have become a major crop of the country, and have such an association with the nation that they were named after the national bird. This picture was taken at one of the main orchards in the northeast part of the North Island of New Zealand.
---